Cold udon, Soo Udon
Bibimbap, Hihyeopjae
Black pork, E-eo-don-ga
▶ Cold udon, Soo Udon
The waiting list is open on 7 am and reservations by phone call are not accepted. There is a wide glass inside so you can enjoy food while looking at Hyeopjae beach and Biyang-do.
The most popular menu is cold udon which was introduced on TV. Mix the thick noodles and broth with garnishes such as radish, chives, and fried grains. It's even more delicious when you eat the half fried egg and fried fish cake together.
Hot udon and pork cutlet are available as well.
Monday 11 am~ 3:30 pm , closed on Tuesdays, 11 am~7 pm on other days.
Break time is from 3:30 pm to 5 pm.
▶ Bibimbap, hihyeopjae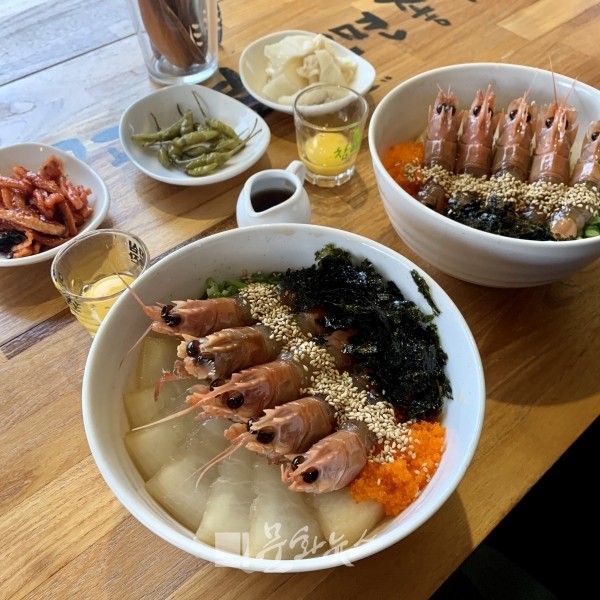 The most popular menu is red-banded lobster bibimbap. There are menus like abalone intestines bibimbap and octopus bibimbap. Visitors can look at Hyeopjae beach on the windowside seat on second floor.
It is open from 10 am to 7 pm and closed on Thursdays. It can be closed early when ingredients run out, so don't be late.
▶ Black pork, E-eo-don-ga
Staff grills the meat for you, so you just have to wait. The main menu is neck and belly of black pork. Other menus include black pork kimchi stew and seafood miso stew.
Seven side dishes are served, such as myeongi-namul, ssammu, sesame leaf pickles, and corn salad. Sauces are wasabi, ssamjang, and anchovy fish sauce. You can get more from the self bar.
It is open 12 pm~11 pm daily
---
[To Go to Jeju] Best restaurants in Hyeopjae, Jeju
저작권자 © MHN 무단전재 및 재배포 금지