pres coffee
ZEN
ANACNAE GROOVE
[MHN Roh Pooleun] The first place to introduce is 'pres coffee'. It was open from last year's May. It is placed in fourth floor and rooftop. On the fourth floor, there is a folding door which can be widely open so that comers can feel like they are outside. LOTTE tower and full view of Song-ri-dan-gil can be seen from the rooftop.
Coffee is brewed from Austrailian special tea coffee brand Dukes's beans. Famous desert is Croi-waffle made from croissant dough baked in waffle machine and topped with Haagen-Dazs icrecream.
The second place to introduce is ZEN.
ZEN is pork-cutlet and rolls restaurant. Exterior and interior is made of wood-tone materials and interior is Japnese-mood. Stained glass lighting and flower-printed cushions complete the exotic mood. Platings are home-stlye and dishes may take some time to be served.
The best menu is 'modeum(set) kats(pork cutlet)', which can be chosen between cheese&tender and tender&sirloin. Basic sauce, truffle oil, pink salt, curry sauce are provided.
The best roll menu is 'ZEN roll' which is served with fresh tuna, fresh salmon, shrimp and 'Victoria roll' which is served with smoked salmon, eel, shrimp, and katsuobushi.
Every menu is provided with MianBao Xia, udon, salad, salted saefood, and fruits. Rice, salad, curry and udon can be refilled and side menus such as sushi and fries can be ordered.
The last place to introduce is ANACNAE GROOVE.
ANACNAE GROOVE is a rooftop pub located in the center of Song-ri-dan-gil. Interior and menus are multicultural. Modern mood interior, flowers, wood, ceramics are unique.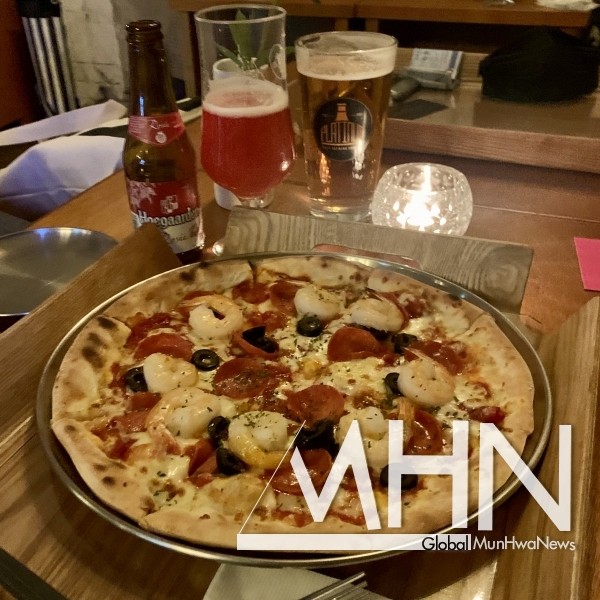 Fushion menus such as pepper pasta, mozzarella cheese rose dumpling soup, kimchi bacon pizza, injeolmi pizza, and origianl pasta, rizotto, pizzas are available. Korean traiditional snacks such as chicken, tteokbokki, sundae, and fries are available as well.
Any seat in fourth and fifth floors, and rooftop can be taken freely. Draft beer, bottled beer, canned beer and wines are available.
---
[Seoul Spots for Date] Jamsil, Song-ri-dan-gil's nice restaurants and cafe
pres coffee
ZEN
ANACNAE GROOVE
저작권자 © MHN 무단전재 및 재배포 금지