A time travel at Gunsan
Stained books from an old bookstore, rusty fences and tainted stone walls all cherish a light of something old. That hint of oldness creates a nostalgic memory even to things never seen before.
Gunsan, North of Junra area is a place especially filled with a recollection of things. Narrow streets and old buildings have you surrender to the warmth of time travel wherever you lay eyes on.
Riding down the Honam line train will open up new sceneries of traveling on the tracks and the window view apart from the metropolitan area freshens up an already excited heart heading to Gunsan.

Gunsan is already an attractive city itself but here we'd like to suggest some tours enjoy it a lot more. Follow along any theme that matches your ideal vacation to explore more of Gunsan. Check some more from the 'Gunsan Culture Tour Homepage(http://www.gunsan.go.kr/tour/index.gunsan)' online.
This article will introduce a trip more about the 'Culture Assets' of Gunsan. Just a tip in advance, ask for a tour map from the information desk at Gunsan station; it will help you a long way. The modern culture assets are also close to Jangmidong and Wolmyongdong of Gunsan.
Junra area is also known for its spectacular food and almost every restaurant serves a great array of menus that are hard to find in Seoul, which makes it even a better place to enjoy a food tour as well.

Many of the Gunsan streets are lined up with buildings that look apart from this world and very old. The 'Main Building of the Old Customs House' above designed and built by a German architect in 1908 proves how much this neighborhood still keeps its historic background as if you're back in time.

There are reasons for such traces of the past in Gunsan. The Honam area has always been Korea's largest storage space for agricultural crops, and since customs were also held here many warehouses that store rice and guard offices that protect the warehouses were organized, leading Gunsan as a military base and economic hub.
This land of plentiful rice became the main harbor of moving rice in the colonial years under Japan's invasion. This was a period of Gunsan as a sorrowful city, bridging the colonized city and its invader. Gunsan's foreign buildings and nostalgic scenes are from what the history has left.

The old Chosun Bank of Gunsan is a historical landmark of Korea's modern history. It was a direct financial center of the Chosun Governor General buildin 1922, number 374 of the nation's treasured culture asset. Jangmidong which is designed with marks of the modern era culture has many sites including main offices during the Japanese colonization and at the History Museum of Gunsan, you can witness a timeline of Gunsan's history so we recommend visiting.

Once you walk into the 'Shining Moon' streets of 'Wol-Myung', there are many houses that were homes of the Japanese residents back in the day. The 'Hiroth House' is closer to Wolmyung-dong that Shinheung-dong. The Shinheong-dong area houses are especially known for its gigantic designs of houses are open for tourists to see inside of it. The stairs may be squeaky due to its age but if you go up to the second floor and look down at the garden, you'll feel like being in the middle of a movie scene. The area has also been a shooting site of many dramas and films such as 'Fighter of the Wind', 'Son of the General' and more.

Dongguksa is already unique by where it's situated, being in the middle of the downtown area of Gunsan, unlike most of Korea's temples. Most of Korea's temples are up in the deep mountains to escape from the war. But Dongguksa was situated where it is during the Japanese colonization by Japan's 'Uzzida' monk, being quite awkwardly in the middle of the city. Once you enter into Dongguksa you will see a huge rock that was placed by the first Japanese who apologized to Korea after WWII.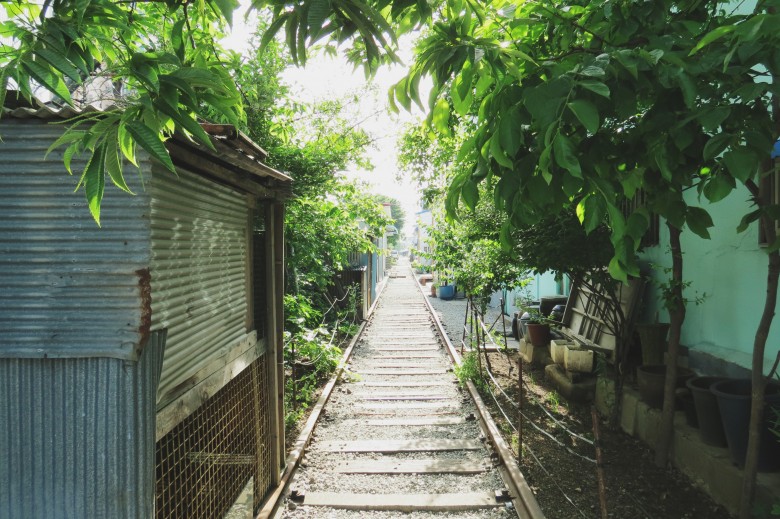 The short train walk that's only a half-hour long all round, is closely lined by old shacks giving a quite dangerous and uneasy scene. This trail was constructed by demand to load products and materials from Gunsan Station to Paper Korea company. Its official name was 'Paper Korea Line'. About a 2.5km long road, trains ran through even until 2008. It's told that during those years, many neighbors who lived around went out to move out their belongings away from the track. Now it's rather a lonely landmark with no trains and people running to and fro, but add just a gist of imagination to picture children skipping between the tracks and villagers busily carrying their things back home.

Unlike the constantly changing downtown cities, Gunsan's old Japanese style buildings and sites ooze an oriental vibe.
Viewing old architectures bring a mysterious recollection of the past, relieving the soul. If you're tired of the modern skyscrapers, why not visit Gunsan for a day-long visit?

Translated by_ Gen_E

Copyright © 2021 MHN CULTURE. All rights reserved.