The Beauty of Hanji spreads around the Globe
JongmyoJaeraeAk, Pansori, GangreongDanoh, Gimjang Culture(Making Kimchi), Jeju's Haenyeo etc are official world culture heritages approved by UNESCO and now, even traditional Hanji is also on the hunt.
On July 12th at Seoul, the '2017 International Conference of Korean Traditional Hanji' was held. This conference was held by parliament member Gwangsu Kim, North Junra Province, Junju CIty, Junju Hanji Culture Festival Committee, and Junbuk University. With other support from the Culture and Tourism Ministry, Culture Finance, Korea Science Technology, Traditional Culture-Science Tech Research, MHN, Junju Fashion Committee and so much more.
At this conference more than 300 people related with culture research and professionals in traditional hanji gathered to discuss the matters in proposing a 'Hanji Culture Industry Law' and in approving Korean traditional Hanji as UNESCO's World Culture Heritage. In the opening a performance of our traditional Gayagum and fan dance welcomed the participants.
Vice President of Munhwa News MHN
PARK LYDIA
"Hanji's quality is highly merited in being able to sustain for over 1,000 years, yet haven't been approved as UNESCO's world culture heritage. In 2009 China approved 'Chinese Traditional Sunji Making' and Japan in 2014 approved 'Japanese Handmade Hwaji Technology' from UNESCO. Through this conference we hope to collect as much opinions on how Hanji can be officially approved as UNESCO's culture heritage."
Parliament Member from The People's Party
KIM GWANGSU
"Silk only lasts for up to 500 years, but Hanji doesn't change for over 1,000 years a great quality that's the heart of Korea's Culture. Hanji our pride and a culture from the spirit of our ancestors. Korea's traditional Hanji is not only useful for paper art and interior design but also a future asset of material with infinite potential in
usage, a true substance with industrial value as well."
Junju Mayor
KIM SEUNGSU
"Junju holds many traditional culture assets from Hanji to Bibimbap, Fans, Pansori and more. Junju's Hanji is one of Korea's best culture heritage with great quality made out of Junju's finest ingredients and clear water, with outstanding technology. In order to sustain the brand of Junju Hanji, Junju has now launched a business providing Dak Trees for farmers mainly. We are also working on renovating a traditional Hanji factory to revive original Hanji and continue on developing Hanji."
Education Culture & Tourism Committee Member
YOO SUNGYUP
"The Junju Hanji Festival held last May, marked a huge success with more than 100,000 visitors. At 'Korea's Hanji Art Fair' over twice the number of pieces were submitted growing into a strong Hanji Art platform. For this year's festival we will work harder by focusing on 'Hanji's Industrialization'. Our committee will continue in researching for better suggestions to the Hanji industry."
Education Culture & Tourism Committee Steward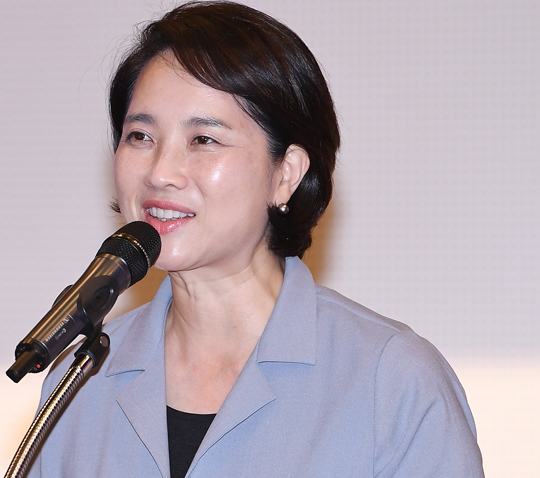 YOO EUNHYE
"One of president Moon's commitments were revitalizing the traditions and characters of each regions and help form a culture. In order for this to happen, the congress must help. For a law to pass, certain procedures must take place, but will do my best in supporting the 'Hanji Culture Industry Law". Hope today's gathering is a time of recognizing Hanji's supremacy and come together in hope."
Jang JungSuk of the Education, Culture & Tourism Committee, Lee ChanHee president of Korea Culture Protecting Science, and Kim YoungSan, chief of the Culture Art Policy shared their welcoming comments.
For the evening event, Nella, the Italian paper culture preservation professional opened a speech about Hanji and Italy. Nella shared, "In Italy, Hanji has been spread through many Korean-Italian gatherings. The start of interest in hanji began through Jikji. Research on Hanji started by Jikji and kept studying the history of Hanji. The Hanji documentary played at the 2011 Junju International Film Festival has been a great research starter."
"In Italy, many questions regarding Hanji's strengths, difference with japan's Hwaji, and its worth as a selling product are asked." Nella kept on introducing Hanji's strengths in hardly changing under sun, it's flexibility, smooth texture, warmth, and more. On ending note Nella said, "Korea and Italy should continue trading research in order to introduce Hanji's supremacy throughout the world. Workshops, and enough supply should also be made. More research in producing mass amounts of Hanji needs to be done as well."
Kim Hyungjin, professor of Kookmin University also spoke about Hanji's UNESCO approval as a culture heritage and passing a law of Hanji culture. "Humans have been expressing through cave drawings, rock carvings and more before paper was created. Through bamboo, papyrus and more humans have been leaving marks of history and now paper is serving as a culture standard and that standard comes from UNESCO's world record of heritage.
So far Korea has 13 UNESCO World Heritages, close to Germany's 17, Austria and Poland's 13. It's more than China's 9, and Japan's 3. 10 out of the 13 culture heritages of Korea are deeply related with Hanji. But still, Hanji has not been approved as a culture heritage."
Kim continued by saying, "In Korea's old books, various ingredients, usage, and finishing touches of processes are recorded in many names of Hanji. This is proof of history, and the six steps of making Hanji is a crucial depiction in order to be approved by UNESCO."
A general debate followed with the participants including Nella, professor Kim, Culture Asset Manager Lee, Korea Science Education leader Han
and more. The conference ended with a Q&A session.

Translated by_ Gen_E
Copyright © 2021 MHN CULTURE. All rights reserved.