Beauties in Autumn
SUNMI
cosmopolitan
Sunmi back with 'Gashina' exposed her new photo shoot with <COSMOPOLITAN>. Sunmi, back alone but with loads of success greeting her shared some of her unique vibes as a fashion icon once again.
​
This photo shoot revealed much of Sunmi's quirkiness with colorful faces from sexy to innocent.
​
In the interview after the photo shoots, Sunmi shared, "If my previous solo concepts were ice-cold this time I changed into a girl who knows what to say."
​
This album was highly anticipated by fans because of it being her first collaboration with 'The Black Label'. The interview and photos are featured in the September issue of <COSMOPOLITAN> and its website.
​
​​​​​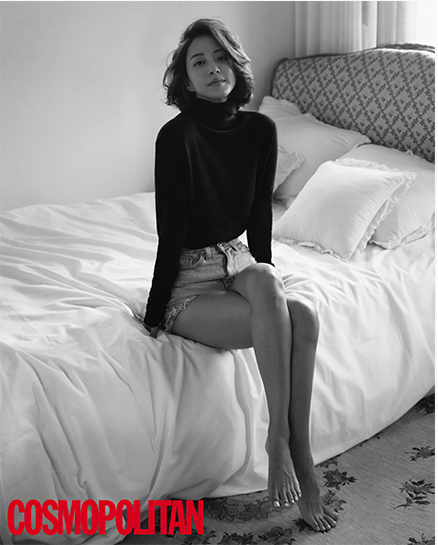 HanYeSeul
cosmopolitan
​
Who could be more of a fun, fearless female than HanYeSeul? This time she pulled a totally natural look in front of the cameras.
​
"It's rare to do such natural photo shootings like this," was how she expressed her satisfaction with this work. Dressed in simple outfits like a t-shirt, turtle-neck sweat-shirt or denim shorts she proved herself as a fashionista who can fit any outfit. She also shared how she spontaneously cut her hair short recently.
Waking up in the morning with music, and ending the day with sweets were some of her favorite things to do, and she also didn't forget about mentioning her new drama '20th Century Boy Girl'. "It's a drama that's got that special something in relationships women my age go through in love, friendship and in just between people."
​
HanYeSeul's lovely photos and interviews are printed in this September issue of <COSMOPOLITAN> as well as on the website.
​​
​​​​​​​​​​​​​​KO JUN HEE
ceci
​
Actress Ko Jun Hee covered this month's fashion magazine 'ceci' along with extra behind-cut photos.
​
The shooting took place in Berlin, Germany. Being on the cover of the magazine after two years, she really tried stepping up her game.
She's also been busy after being cast as the main character for jtbc's new drama 'Untouchable' as 'Gu Jakyung'. To the question about what's new to this role, she said, "I think I can show a new style of acting through this one. It doesn't have many lines but I really need to focus hard on each and every scene. It's harder compared to speaking many lines but fun because I get to digest every line deep by heart."
​
Asking what her goals are within this year, she said that she only wants to act 'Gu Jakyung' well because it was a character she dreamed of meeting one day.
​
The interview and fashion photos will be included in ceci's September issue and the fashion films at ceci digital.
​
​​​​​​​JESSICA
instyle
​
Fashion & Star magazine InStyle opened up their photo shoots with Jessica.
​
This year, the singer celebrated her 10th anniversary since her debut. Far from the long years that passed, Jessica still has that girly smile with a petite figure. She led the house with her confidence throughout the whole shooting.
​
During the shoots and filmings, she openly suggested her own ideas and passionately communicated with the staffs to accomplish the look. She released her 10th-anniversary album, a third solo mini album already. "This album is a present to my fans who've always stayed. Every word I wrote filled me in, and I tried to jot down what I wanted to share with my fans from deep inside."
​
When asked what it feels like to celebrate the 10th year she said that she grew mature in seeing things wider and through priceless experiences.
​
She's also the CEO of her own fashion brand, and brightly answered that "Denims! It's my favorite item that I almost wear every day." Jessica's photos will be uploaded on the website of InStyle.
​
​​​​​​​HanSeungYeon
instyle
​
'Jung YeEun' of jtbc's 'Youth 2' is Han SeungYeon who revealed her photo shoot and interview with 'InStyle' about books.
​
A bookworm herself, Han said her favorite type of reading is fantasy novels. "I'm drawn more to stories like novels where you can find meaning as you follow the story." Her favorite series is the 'Harry Potter' series. Just like how the 'Harry Potter' series actors grew up together, she was more than thrilled to gather back with the 'Youth' crew for the second series.
​
She also said that "I couldn't really understand why we needed to shoot YeEun being date-bullied at the end of season 1. Her boyfriend 'Go DuYoung' is spontaneous but the violence seemed very random to me. But the writer said that just like life, there are things that happen with no reason, and after watching it I really thought this could be the life that we're living in."
​
Han's interview and photos will be featured in the September issue of 'InStyle' and on the website.
​LEE HYO RI
heren
​
Membership based magazine 'HEREN' uncovered their makeup-work with Lee HyoRi.
​
In the middle of LA's deserts, Lee stood in front of the camera as the muse for NARS in wild makeup.
​
With her perfectly tanned skin and fit body built with years of yoga, she stood boldly like an Indian doll.
​
In the photos, Lee's glowing skin was with NARS aqua glow cushion foundation, and more of NARS products like the power-matt lip pigment, velvet lip glide painted HyoRi's impeccable face.
​
Check out her photos on HEREN's September issue.
​

Translated by_ Gen_E
Copyright © 2021 MHN CULTURE. All rights reserved.