Follow the Trails of Autumn
This place will remind you of New York's Central Park with people jogging, reading newspapers on the bench, strolling along with pets and running around the green grass.
​
Summer is now fading away as the morning breeze is getting chillier and evening lights cooling down. Finally, autumn has come to take its place. Come follow the footsteps of the new season at Bundang's Central Park as the green leaves start to change.
A CULTURE HERITAGE, THE HANSAN LEE
​
A park walk can get boring if it's just a place where you can only walk. But this park is different. The Sunaedong area which the park is situated used to be a village of the Hansan Lee family, where the traditional houses of the Chosun Dynasty and cemeteries are still existing. It won't be an ordinary park walk for sure here.
Infront of the Sunaedong houses under a zelkova tree are grandpas playing Korean chess, 'Jang-gi'. It's something that's clearly different from what you see at the 'TopGol Park' in the middle of Seoul.
BUNDANGHO AND THE DOLMAGAK
​
Bundangho was inspired by Gyungju's Ahnabji, made across the park with the Bundang stream. The two islands are connected by three stone bridges and the DolMagak, a small park house creates a picturesque view. If you climb up the second floor of the DolMaGak a view of the whole park painted in colorful shades of autumn with concrete buildings greet you. What a blend of the city and nature!
The fountain that bursts from the lake of the park sparkles up your heart from deep within. A flock of ducks might follow you like a little puppy, a surprise that will make you feel like a child again.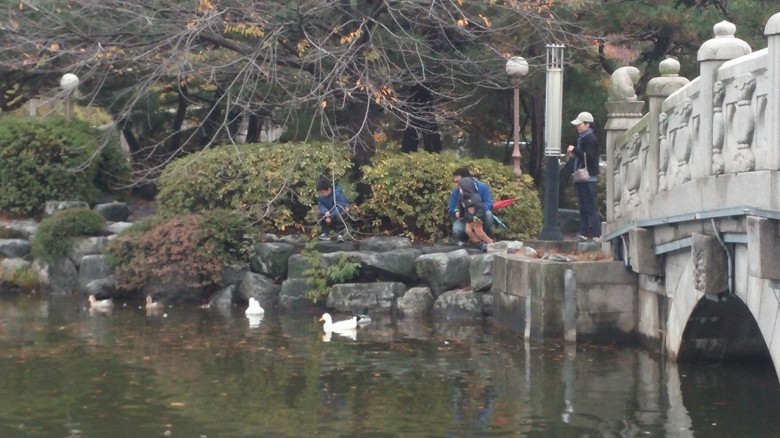 ​​​​​​​LET'S LIVE RIGHT
​
Any park around a neighborhood should definitely equip some workout facilities. If walking isn't enough for you, stop by to stretch out, hang, and even pedal to move that body.
This rock in the middle of the plaza has a large saying 'Let's Live Right' a common sense, simple saying but pretty hard to act out.
New York City, The Sulack, and Naejang Mountains can't even beat the beauty of this place in the autumn. The red leaves fallen across the stone paths, the yellow ginkgo leaves piled on benches are all bits and pieces of autumn. Stop by Bundang's Central Park this fall before it gets too late, it's worth it.
​
​​​​​​​
​​​​​​​
​
​
​
​
Translated by_ Gen_E
Copyright © 2021 MHN CULTURE. All rights reserved.