TIME's 'Influential Teen' Han Hyun Min shared his 'boyfriend-look' with 'younggirl'. The photoshoot was on 'Younggirls with boyfriends around Seoul'. We were able to sit down and talk with Han after the photoshoot.
How Was the Photoshoot?
I loved this opportunity to work with 'younggirl'. Working with an idol group member such as Ami, Hae-ah, and with model Jung Myung Sub all were great people to work with.
Haven't You Also Worked with Somi, Another Idol Member?
That was different. Back then it was a commercial ad so everything went by on exact time, exact order, under a certain calculation of things. But this time it was a lot more like being family because we were able to talk and such.
You're Now Pretty Famous Online!
I'm surprised about it too. I thought I'd never see my name around searching, portal websites. I couldn't believe it myself. I didn't know the mass would want to know about me so much. It was very interesting and I felt like I should work harder.
​​​​​​​Most of It Must've Been Because of Being in the '30 Influential Teens' List from TIMES. How Do You Feel About That?
I haven't started working overseas yet, but felt very thankful and honored to be enlisted in the TIMES magazine. Since my name is on paper, I really want to work abroad as well.
How Did People Around You React?
School friends were teasing me, saying 'Who are you to be on that?'. I'm also very curious about the influence I've spread to be on the TIMES magazine. I'm living in my dreams these days.
​​​​​​​You Said You Can't Speak English Well Before, Is That Why You're on tvN's 'My English Puberty'?
Yes. I did say I can't speak English well. For communication, abroad English is a must so I wanted to learn English and the timing was right. So I joined.
All Members of 'My English Puberty' are Famous Celebrities. What Was That Like?
All of the members were really nice and kind. It's my first time to be on a TV program so I was lost in many ways but people around me really care for me so I'm having fun!
It was also my first to be a fixed panel. We shoot twice a week, and at first, I thought two months would be a long time. But as time went by I felt really sad towards the end.
​​​​​​​Who Cared for You the Most?
I can't pick one, everyone was very caring.
Since You are a High School Student, Isn't it Hard to Do Both Work and School?
I'm not studying at all so it's not tiring at all. When I don't have any schedule I go to school.
I Read From Another Interview, that You Wanted to be An Athlete Before?
Yes, in elementary school I did baseball. But I quit as I moved on to middle school. It took too much money to do baseball and my family couldn't afford it. I ended up thinking what I could do in middle school and looked into modeling since I was interested in clothes.
Do You Have a Favorite Baseball Team?
I'm a Hanhwa Eagles fan for 9 straight years! I'm glad we're not placing last these days but I do feel sad we've been on the downhill since 2007.
Since You are a Model You Must be into Fashion, What's Your Daily Fashion Pick?
I used to just wear anything but since I am a model now I try to dress up in conscious of others. Clothes, it depends on who I meet but if I'm going to a nearby PC room I just wear gym clothes, to school, I wear my uniform and if I go to work or to places like Hongdae I dress up neatly. I do prefer sporty looks.
Where Do You Refer Your Style From?
I try to copy many fashionistas. I refer G-Dragon. I also read a lot of magazines since it has many styling tips and ways to coordinate.
​​​​​​​What's Your Merit in Fashion?
Color matching. Clothes, shoes, hats, I try to match them to give a unified look.
Do You Have a Role Model?
Kim Won Joong. He was really popular since I started modeling. I really admire his way of suiting pretty much any style. I want to fit into any piece as if it's mine.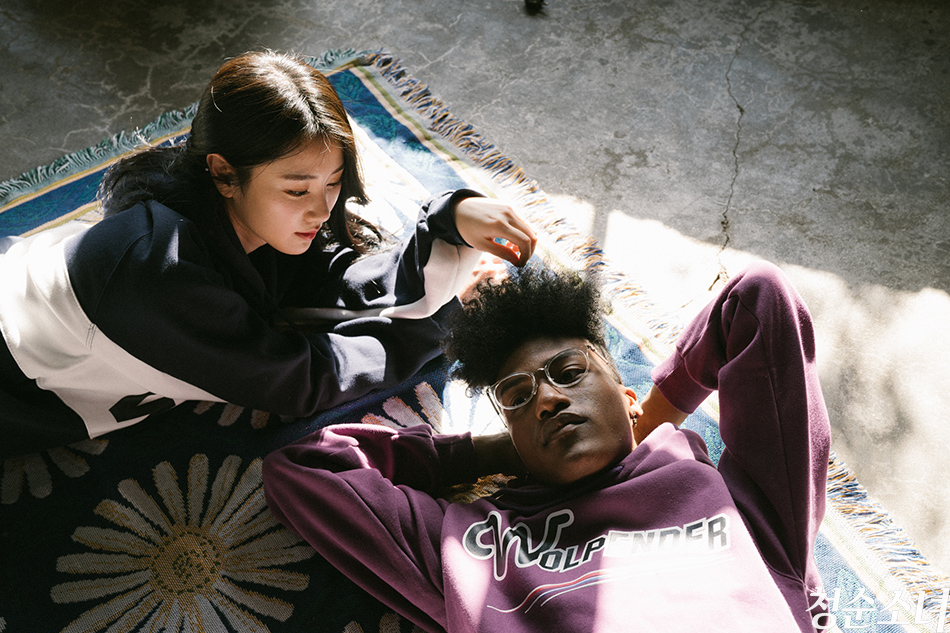 ​​​​​​​Future Goals?
I just want to live my fullest every day. I also want to be happy with everybody. Next March is Seoul's Fashion Week and I would love to be on stage.
'younggirl' will release its December Issue through its instagram, YouTube, and NaverTV with full video of Han Hyun Min, Ami, Hae-ah and Jung Myung Sub

Translated by_Gen_E
저작권자 © MHN 무단전재 및 재배포 금지