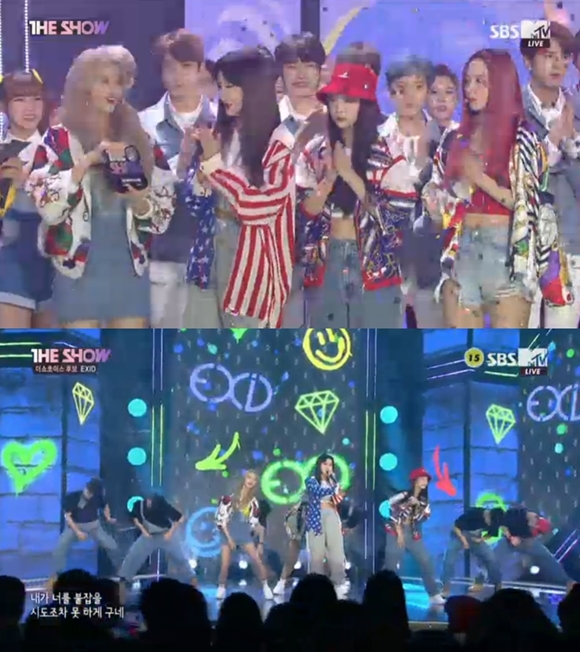 [MHN.korea.com] 'The Show' EXID comeback with the song LADY' and ranked the top.
'The Show' broadcasted on 10th, EXID beat MONSTA X and NCT127 and ranked on top.
On the day, EXID Hani gave her thougths saying, "Thanks fans!" and mentioned fans the first then added, "We didn't expect it", "Thank you Solji. We'll strive much harder in every moment."
MONSTA X Minhyeok took the MC temporarily after B.A.P Yeong-jae who couldn't make it on the day. Minhyeok said, "I'll take the position of main face" and kept in step with MOMOLAND JooE and TRCNG Ho-hyeon.
Heo Yeong-sang comeback with the stage singing single album 'Dream(夢); Flied' title song 'Destiny' and The BOYZ come back with the stage 'Giddy Up'.
Oh My Girl member Banhana wore jean overalls, showed stage highlighting their unique juicy atmosphere. Also through 'Becoming a fan' game, Bini, A-rin, Hyo-jeong showed off their own charms.
Imfact, The Rose, Hyeongseop X Euiwoong, Eric Nam notice their comeback on next week.
On the other hand, on 10th broadcast, BoK, EXID, MOSTA X, NCT 127, NOIR, SHA SHA, UNB, THE BOYZ, Bad Kidz, Bromance, Samuel, Yem-im, Heo Yeong-sang had stages.
저작권자 © MHN CULTURE 무단전재 및 재배포 금지